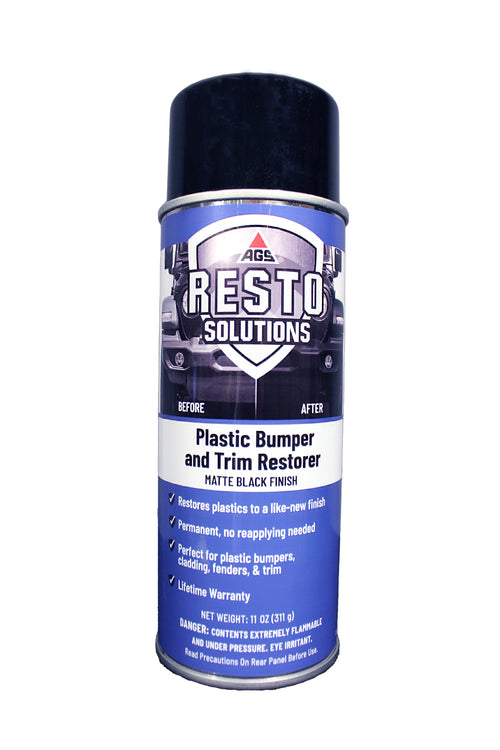 Plastic Bumper & Trim Restorer
SKU: AOR-500
Plastic Bumper & Trim Restorer
Give your faded bumper a new shine with the AOR-500 restorer by the AGS Company.
Remember when you first purchased your vehicle five, maybe ten, years ago? The bumper was sparkling clean with a jet black finish. As the years rolled by, you noticed your bumper lost its luster. Its shade has faded to a dull gray which has added several years to your car's appearance.
Now, before you trade your car in for something new, consider an easy solution for getting your bumper looking fresh and new again.
AGS Plastic Bumper Solution
Most polisher brands advertise their products as "good for several weeks" or "protects for over 100 car washes." Don't assume this is the best deal you'll find on the market. These brands are essentially telling you, "eventually, this polish will wear off." 
With the AOR-500, the black plastic restorer from AGS, you will have a permanent solution. 
More Effective than Competitor Brands
The polish from other brands will only give your dull bumper a topical fix. After weeks and months of exposure to UV rays, dirt and car washes, the solution will revert back to the problem. You once again have a faded plastic bumper with an empty can to show for it.
The AGS solution, however, seeps into the plastic and embeds itself into the material. The polish brings the color and resin with it. It quickly becomes one with the plastic rather than acting as temporary makeup. The AOR-500 is not a cosmetic solution, it's a permanent one. Because of this, the AOR-500 comes with a lifetime guarantee. 
Safety
The trim restorer can be highly toxic and flammable. Exposure to the spray may lead to skin irritation, eye damage and respiratory distress. For our customer's safety, we recommend wearing respiratory, eye and skin protection when using this product.
Respiratory protection can be in the form of a half-face respirator with side filters. Standard safety glasses can keep the spray out of your eyes. Finally, rubber gloves will prevent exposure to the polish's inherent toxins.
Your work area should be well ventilated and away from small children. There should also be no open flames. 
Applying the Solution
Once you've strapped on your personal protection equipment, you're good to go.
When you go ahead and start applying the black restorer spray, you can either take the bumper off the car or leave it on as you go through the process. It's important to note that if you leave the bumper as is, you should cover the surrounding exterior with tape and newspapers. The spray can prove exceptionally difficult to remove from the body of your vehicle.
Cleaning the Bumper
Before you start restoring the bumper, you need to clean it. The AOR-99 can remove accumulated oils, grease and contaminants that can prevent the AOR-500 from doing its job. Think of the AOR-99 cleaner as the primer before a paint job. The 99 solution can be used on metal, fiberglass or anything that can be painted.
It isn't necessary to soak the bumper. Spray it a few times and spread it over the bumper with a clean cloth or rag.
Restoring the Bumper
Shake the can of restorer spray for about two minutes before applying it to the bumper. The solution needs to be well-mixed. Spray two or three light coats on the surface without soaking or overdoing it. Make sure you cover every inch of it to restore the plastic trim of your car. 
Car owners often underestimate the impact of their bumper's shine. Apply the AOR-500 with this simple process and restore years to your car's look.
Other Uses
The plastic color restorer doesn't need to be limited to only car bumpers. You can also use it for other items such as the blacktop of your patio umbrella, parts of your lawn chair and the legs of your table. 
Purchase Today
Purchase a can of AGS AOR-500 black plastic restorer today and enjoy a lifetime warranty. Remember, you only need to apply the polish once. No re-application will be necessary.
Please be advised the product may cause physical and reproductive harm. Always wear respiratory, eye and skin protection. Use this in a well-ventilated area and keep out of reach of children. Do not work near open flames as this product is extremely flammable. 
WARNING: Cancer and Reproductive Harm - www.P65Warnings.ca.gov

You may also like
AGS is the leading manufacturer of specialty lubricants.
Sorry, recommendations are empty