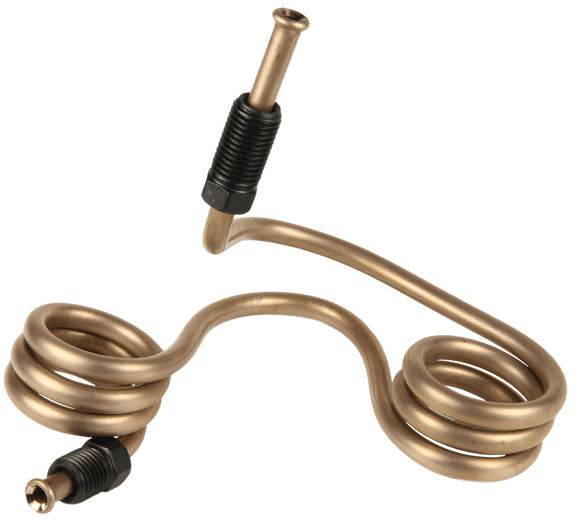 6 Benefits of EZ-Fit Brake Line Replacement Kits
Sure there are several brake line replacement kits you can choose from, and they're all pretty interchangeable, right? Whoa — better get a cup of coffee and listen up! You couldn't be more wrong. There are brake line replacement kits and then there are EZ-Fit brake line replacement kits for popular Chevy, Cadillac and GMC vehicles. What makes them so different, so much better? Well, we're glad you asked. Here are just a handful of reasons why you should choose EZ-Fit by AGS over any other brake line kit out there:
Exclusive EZ-Bend Technology.

 No other brake line kit has it, so none even come close to the flexibility of EZ-Fit brake lines. You can actually bend them by hand, and route them any which way you need to without dismantling a thing. It's what puts the "easy" in EZ-Fit.

Pre-flared to perfection.

 Not only are EZ-Fit brake lines pre-flared for faster installations, they are the highest quality machined flares for no-hassle, no leak connections.  No one likes to manually cut and flare, we know, but please hold your applause, there's more.

NiCopp technology.

 Nothing wastes time and money more than comebacks. Well, good news: EZ-Fit complete brake line replacement kits provide longer-lasting results because they feature NiCopp technology for corrosion-proof tubing and lines that even last longer than stainless steel.

Black oxide fittings.

 While other kits use zinc-oxide as a standard, EZ-Fit boosts corrosion protection even more by providing black oxide fittings instead, for superior protection.

Lower shipping costs

. Everything you need fits into a box that's 93% smaller than any competitor, which means reduced costs for shipping, not to mention the amount of shelf space needed for storage.

More time saved and money made.

 EZ-Fit brake lines are so fast and easy to install, you can do the job 65% faster than you would normally. Now, what could you do with all that time you save? Fill it with more jobs (a.k.a. more money)!
Yeah, there might be other brake line kits out there, but you seen one you seen 'em all? Not quite.
Get yourself the easiest, fastest, and all-around best brake line replacement kit you can get. Check out the complete EZ-Fit brake line kit line up for brake line replacement in GMC, Chevy, and Cadillac cars, trucks, and SUVs.